I work in a studio near Sheffield UK, for clients around the world.
My past clients include: Guardian, FT, Telegraph, Times, Radio Times, BBC, Independent, Walker books, Experien, Reader's digest, Economist, TES, Informa Plc, New York Times, Honda, Wall Street Journal, Harvard Magazine, Waitrose, New Scientist, Nike, Spotify and many others.
.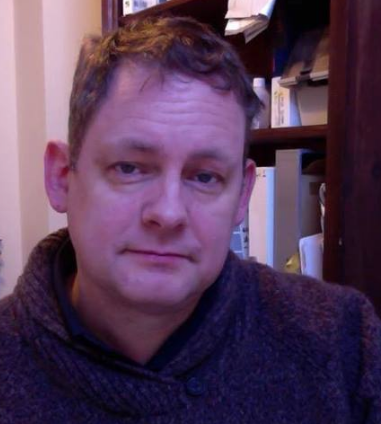 Bio
My greatest aspiration was to be an artist. I was raised in Lancashire, England and relocating to Yorkshire at the age of nine during the early 80s. Cartoons and tree-house building were typical pastimes but didn't compare to the joy of receiving a brand-new drawing book and pens.
After leaving school I pursued a career in Graphic design, later I was to realise it to be a bad move, for the 90s was a time of change in technology. College taught us using pens, rulers and photo-transfer machines yet the real world was gearing up for a digital revolution.  I was among those caught up in that transition period and discovering that the industry were just taking on 'Mac operators'.
My lack of digital knowledge spurred me on to take a slight turn in my career path, one that didn't need a computer. In 1996 I officially became freelance and started out painting with acrylics on canvas paper.  I loved using this medium, however by 2001 I decided to shed my Luddite ways and embrace technology and jump on the digital bandwagon. My illustrative style has evolved over the years and reinvented it's self several times. Having been admirers of artists like: David Cutter, Mark Ryden and Edward Hopper, I believe my work probably wouldn't exist without their influences. For those who have been brought up without computers and social media it's quite a learning curve but I feel my work has benefited as a result and being plugged into the social network has not only got my work seen but gave me the ability to see a broader spectrum of illustrative styles.
Prints
I get asked a lot about prints and where you can buy them. You can buy signed – limited edition prints from etsy and other kinds of merchandise from society6. Not all of my work is available as a print on these sites, however you can order direct with me if your desired illustration isn't on etsy or society6. I will not charge you VAT if you order direct but the other sites will. If you wish to order direct drop me an email: mail@johnholcroft.com
Copyrights
I own the copyright all all my work and if you need a licence to use any of my existing images please contact me to buy the appropriate licence.
Please do not use my work without the correct licence.
Competitions
In 2015 I entered the AOI and London Transport Museum competition entitles 'London places and spaces' in which I was short listed for exhibition.
I was also shortlisted for the 2019 AOI world illustration awards with the illustration entry called 'Gender equality'.
.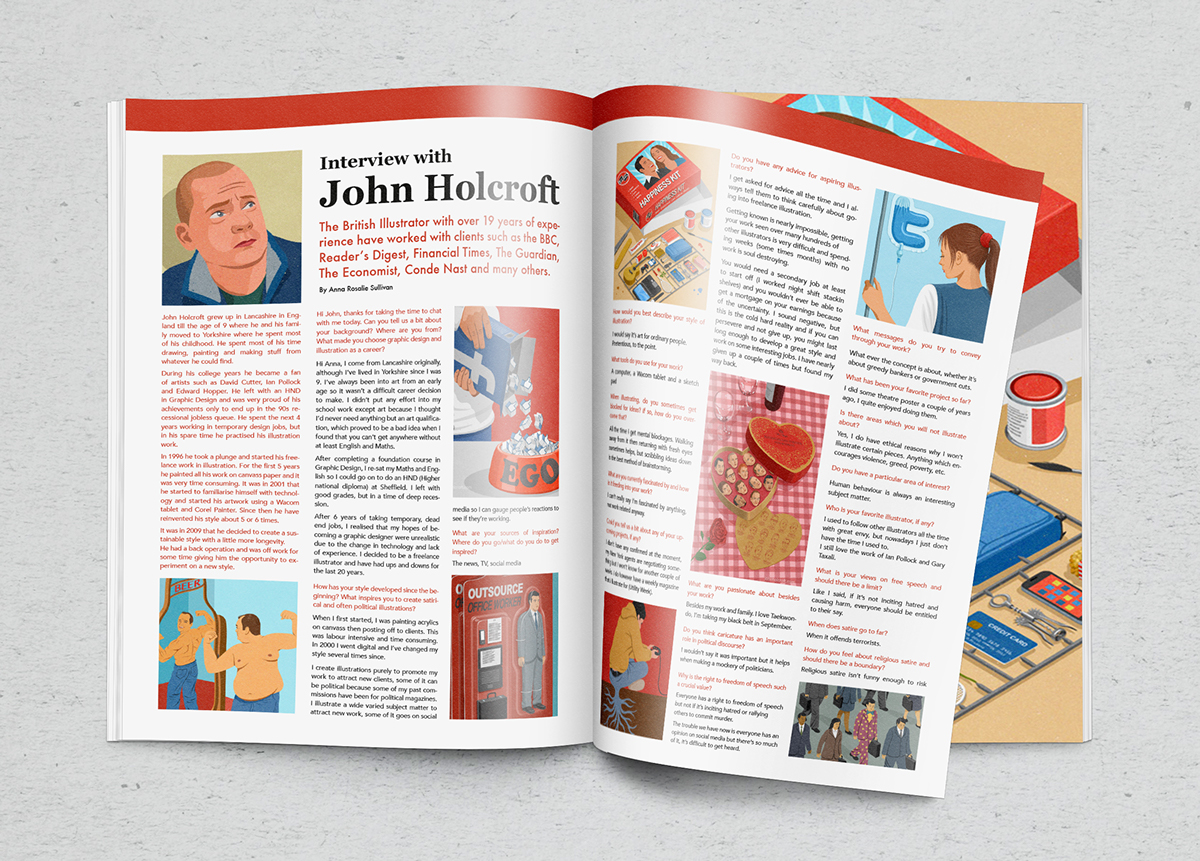 This is a magazine interview I recently did. I do quite a lot of these but very few in Print, in fact the only ones I've done for a printed magazine were for a Spanish and  German publications. I have them here but I'm going to stick to English. Here is a link onto one of many online interviews .